Chantilly-Tiffany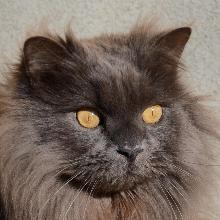 Brief information
Breed Name: Chantilly-tiffany
Country of Origin: USA
Weight: 2 – 5 kg
Life expectancy: 14 – 16 years
Chantilly tiffany - charming representatives of long-haired cats, in which there is something attractive and unusual... The color characteristic of Tiffany is chocolate, but it can be black, purple and blue, changing – becoming lighter – from the spine to the belly. These cats are very friendly, well-trained and unpretentious in care.
Breed characteristics
Affectionate (
Rating
4/5)
*Characteristics of the Chantilly-Tiffany breed are based on expert assessment amitypuppies.net and reviews of cat owners.
History
It all started with two long-haired cats of chocolate color. In 1969 in the USA they had an unusual offspring: the kittens were also chocolate, and even with bright amber eyes. The breed was named Tiffany, breeding began. But the breeders also had Burmese cats. As a result, the breeds mixed, and Tiffany, in fact, disappeared. The breed was restored in Canada in 1988. Considering that the former name was already used, they called the Chantilly-Tiffany cats.
Appearance
Color: solid tabby (chocolate, black, purple, blue).
Eyes: large, oval, wide apart, amber.
Coat: medium length, longer in the pants and collar area, no undercoat.
Features of behavior
When compared with other breeds, the Chantilly-tiffany is something in between calm Persians and active oriental long–haired cats. Representatives of the breed are not too emotional, not so energetic during games. But at the same time they are very attached to the owner, truly devoted to him and do not like loneliness very much. Therefore, they are advised to start families with children: on the one hand, these cats get along well with babies, on the other – and they will not be bored, because there is always someone at home.
Tiffany happily jumps into the hands of the owner and can purr there for a long time, enjoying communication.
Health and Care
Chantilly-tiffany — unpretentious cats. Their content is not associated with any special troubles. Of course, medium-length wool requires a little more attention than that of short-haired breeds, but bathing and ordinary combing is quite enough. You also need to clean your ears and teeth regularly.