Bobtail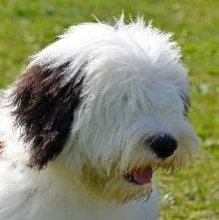 Brief information
Breed name: Bobtail
Country of origin: United Kingdom
Birth time of the breed: 1888
Weight: 27-46 kg
Height (height at the withers): males from 61 cm, females from 56 cm
Life expectancy: 12-13 years
Bobtail is a shepherd breed of dogs from the UK. This huge and curly-haired dog is very popular due to its friendly nature. The Old English Shepherd Dog is used today not only as a shepherd, but also as a companion, guide dog, and even for the therapy of children with physical and mental retardation. It is noteworthy that a huge bobtail can easily carry urban maintenance and does not need much physical exertion.
Breed characteristics
Very friendly (
Rating
5/5)
Above Average (
Rating
4/5)
Moderate time (
Rating
3/5)
*The characteristics of the Bobtail breed are based on the assessment of experts amitypuppies.net and reviews of dog owners.